Our promise
We meet your pet's nutritional needs throughout their life with recipes made from fresh, unprocessed ingredients in an easy and convenient format for you.
Our story
Faim Museau was founded in 2008 when Sarah, then a canine behaviour coach, watched her own dogs and those of her clients develop various health problems. After seeing little to no improvements with traditional veterinary techniques, she decided to do her own research. That's when she became enthralled with natural foods and their positive impact on the overall health of dogs.
After ample research, Sarah realized the solution was simple: let dogs eat what they would find in nature. That means fresh meat, organs, and offal. Nothing simpler or more instinctive!
Sarah tested her findings on her own dogs, and when she saw the incredible results on their health, she felt the need to share her discovery with her friends and her canine behaviour clients. The results were amazing on those dogs, too! Each physical improvement was remarkable!
The results were evidence that dogs need a diet adapted to their system, and to Sarah, this was the obvious solution to so many common health problems.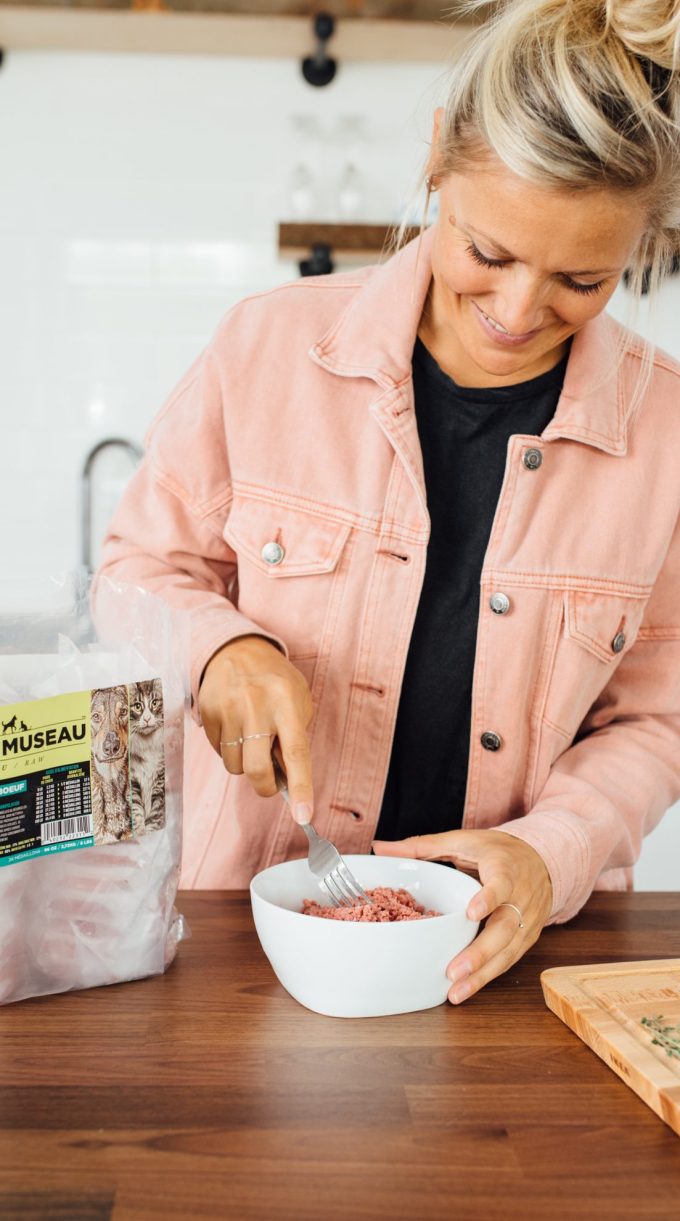 After all, humans stay healthy thanks to a healthy diet and unmodified, balanced foods. Why should that change when it comes to animals?
At first, Sarah was going to the grocery store and the butcher's to get ingredients for her and her dogs' meals. This way, she knew exactly what was going in their bowls. But she soon saw how time consuming it was to prep raw meals for her dogs — and definitely more complicated than she initially envisioned. How could she guarantee their meals were balanced? Did they have all the necessary nutriments?
After months of research and consults with agronomists and vets, Sarah came up with meals that were complete, balanced, and pre-portioned, all with the goal of making raw, natural meals accessible and easy for family pets and their owners. That's how Faim Museau's recipes came to be.
Today, Faim Museau continues to expand across Canada with its selection of medallions, recreational bones, and dehydrated treats via its network of over 350 stores.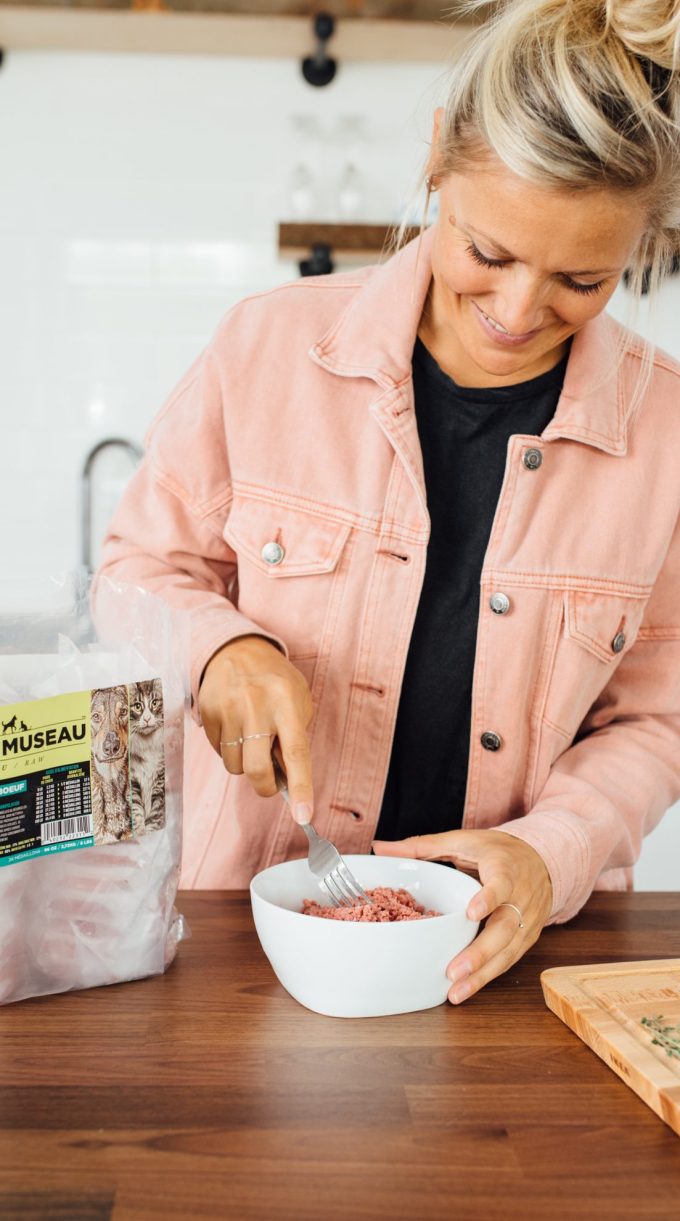 Our production facility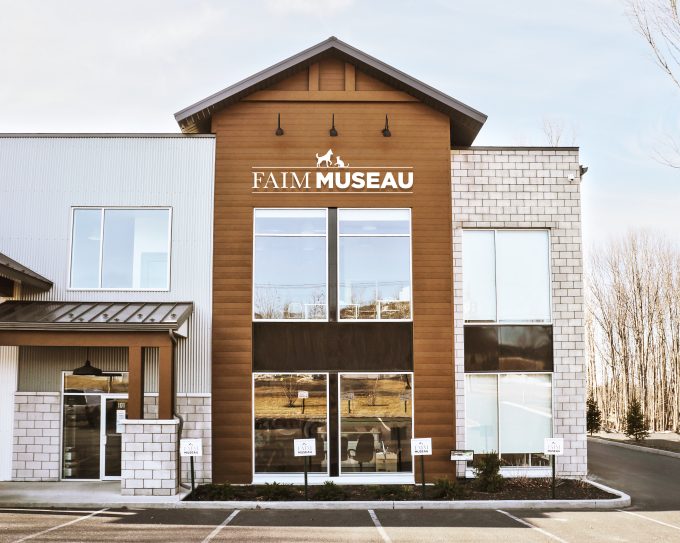 During every step of production, we apply strict quality controls in order to exceed MAPAQ standards.
Our factory is filled with brand new equipment and a powerful refrigeration system to better control the temperature of our medallions.
From the arrival of our raw materials until delivery to your door, we respect the cold chain at all times to ensure the food safety of our products.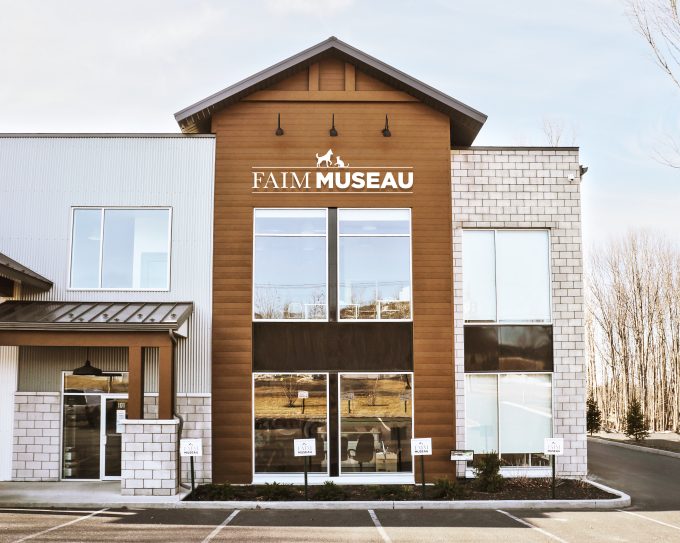 What to expect in our products
100% Canadian ingredients, preparation and packaging
Complete & balanced recipes for all life stages
Fresh, unprocessed ingredients, and no preservatives
A high-quality diet that's graded for human consumption
Pre-portioned meals, easy to handle, and ready-to-serve
Trust us, you'll see the Faim Museau effect on your pet. Find out how a natural diet can have an impact on your pal's health and vitality.