Your dog deserves
to eat well, too!
Complete, Balanced and Ready-to-Serve Meals
Pick your pal's favourite recipe.
Thaw their portion in the fridge for a few hours.
Serve and watch your dog devour that meal!
Benefits That Have a Direct Impact on Your Pup's Life… and Yours!
Your dog is carnivorous by nature. That's why a diet based on raw meats (as high as 95% of their diet), organs, and bones, plus 5-15% plants, is the most appropriate food for your pet's biology. It reflects what they would eat in their natural habitat.
At Faim Museau, we have formulated recipes to provide your dog with a natural, healthy, and non-processed diet that respects their nutritional needs.
Optimum absorption of nutriments
White teeth and fresh breath
Reduction and elimination of rashes and ear infections
Improved digestive process
Renewed pep and appetite to eat
Smoother, shinier coat and less shedding
Better muscle tone
Smaller, firmer, and less smelly stools
A Specific Food Plan
for Your Dog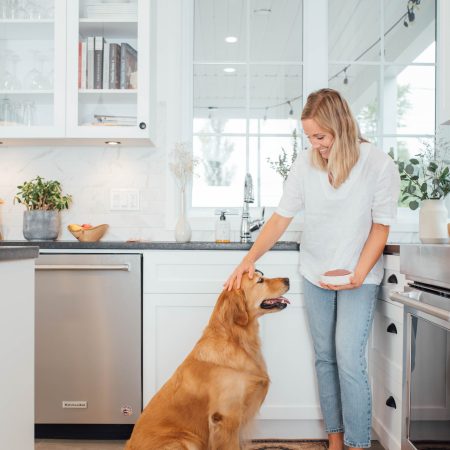 Age, weight, allergies… Take two minutes to talk to us about your companion and we'll be happy to share some carefully curated recipes, just right for your pet's specific needs.
Check out Our Best Sellers
Recipes that are complete and perfectly balanced for your dog's every life stage. They're made of fresh, local ingredients that you can actually pronounce. Nothing fake, nothing extra. That's the raw truth!
Simply Beef

Excellent for active or growing pups, Simply Beef is one of our clients' favourites!

Beef & Apple

A favourite amongst our clients! Perfectly suited for dogs who spend a lot of energy.

Simply Chicken

Easy to digest, this recipe is perfect for dogs who are just getting acquainted with raw food.
Easy for You, Delicious for Them!
Perfectly pre-portioned to avoid weighing or measuring.
Made of ingredients from local producers.
Complete and balanced for every stage of your dog's life.
Made with fresh meat, without antibiotics or hormones.
No preservatives, artificial flavours, or food colouring.
About Faim Museau
"I tested this on my dogs and when I saw the incredible results on their health, I felt the urgency to share my findings. I developed a few recipes at home and had my friends and my canine behaviour clients test them out. The results were positive for these dogs as well!
Not only did dogs love their new food, their health had never been so good either. It was evidence to me that dogs need food adapted to their systems and this was the solution to so many health problems."
Healthy Dog, Happy Human!
"I'm really impressed. Choupi had urinary stones, was throwing up regularly, and refused to eat his food. I spent over $1,200 at the vet's in 4 months and got no results. I decided to do my own research and opt for raw food. My dog is 11 years old and now that he's on a Faim Museau diet, he looks younger than ever. He has a better build, more energy, and no more urinary or vomiting issues! If only I'd known this before… Thanks Faim Museau!"

Michel
"My Minny loves your food. I always get compliments on her fur and her constant energy. Plus, it's local."

Sof
"Great quality food! My dog, that I used to have to force feed, is now always craving food. Not only is it delicious, this food totally changed my dog: teeth, fur, weight, and health! Only positive stuff."

Catherine
"Pico's been with Faim Museau since February. I only have good things to say. Pico gained a bit of much-needed weight, found his energy, and his digestion has improved immensely! I'm blown away by his small stools — not odorous and without unusual colours. I'm planning on changing my cat Mitaine's diet too… Thanks for keeping our beloved companions happy and healthy!"

Chantal